The HASANZ Register is open for business.
It's a one stop shop for businesses to find verified professionals across the workplace health and safety disciplines.
Click the button below to go directly to their site.
HASANZ Register of Workplace Health and Safety Professionals
The HASANZ Register of Workplace Health and Safety Professionals is a national, online database to help businesses find qualified workplace health and safety professionals.
There's a charge to list on the HASANZ Register, but it's free to view.
To list on the HASANZ Register as a member of New Zealand Occupational Health Nurses' Association (NZOHNA), you must meet registration standards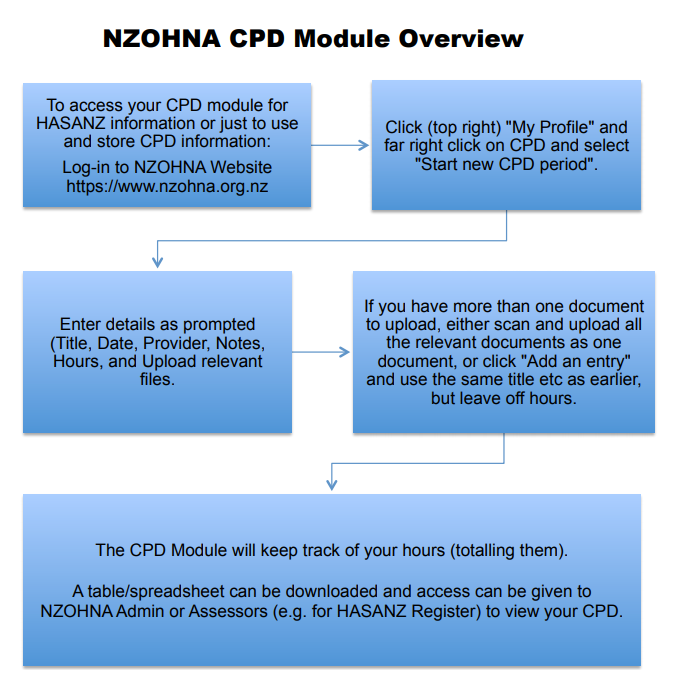 Registration Fees
These are the fees you'll pay when you apply to list on the HASANZ Register:
One-off application fee of $150
This fee is for our administration costs and is non-refundable.
Annual registration fee of $100 plus GST
This fee is refundable if your application is declined because it does not meet the registration standards
Additional processing fees of $14.75
This covers the cost of HASANZ providing the online payment facility
Register Ambassadors
Our Register ambassadors are trained to help you with enquiries about the HASANZ Register, please contact:
Carolyn Haybittle, Judy Currie, Nikki Edge or NZOHNA Administrator
Further information
Check out these resources on the HASANZ website:
NZOHNA MEMBER NUMBERS
NZOHNA Membership numbers will be available by mid January and will be visible on your profile page when logging into the NZOHNA Website.

NZOHNA Knowledge and Skills Framework
Link to Knowledge and Skills Framework (also available when logged into the NZOHNA website)