HASANZ Executive Director's Update to Members
Jul 9, 2019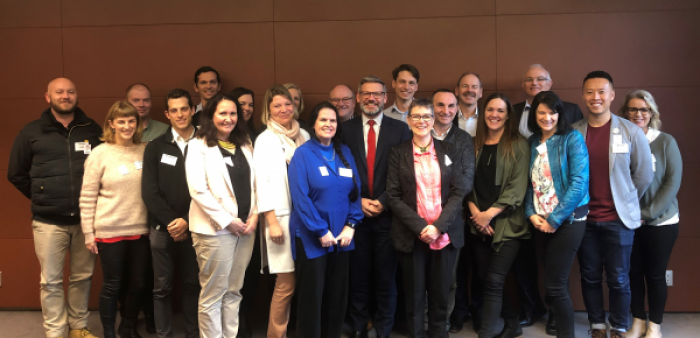 EXECUTIVE DIRECTOR'S UPDATE TO MEMBERS
June 2019
Tena koutou, tena koutou, tena koutou katoa
Time for strategic realignment – an opportunity for us to create a future workforce together

One of HASANZ's key focus areas is to build capability and capacity, and to increase the quality of health and safety advice in the system, which includes the number of competent and skilled people across all the health and safety disciplines.
We have several initiatives on the go and now have an opportunity to step-change health and safety outcomes for all New Zealanders. Demand for health and safety services is rising and, in some disciplines like occupational hygiene, already outstrips supply. Demographics in the profession suggest the risk of a mis-match between supply and demand could get worse in future, with an estimated half of health and safety professionals being aged 50 and over. At the same time, roughly half of the people working in health and safety do not have health and safety-related qualifications. People often fall into health and safety from other disciplines or pick up health and safety as part of a wider role.

We have several key workforce development initiatives underway including:

Addressing acute shortages
HASANZ is working with the NZ Occupational Hygiene Society and WorkSafe to deliver a three-year plan to increase the number of capable, competent and qualified occupational hygienists in New Zealand. We are about to embark on a similar project with the Hazardous Substances Professionals NZ to increase the supply of hazardous substance professionals.

HASANZ scholarships
The HASANZ Scholarships Programme is also building capability. In 2018, 19 inaugural scholarships were awarded for general, postgraduate and occupational hygiene tertiary study over the next 2 years. The 2019 scholarship round will open on 03 July. Two additional categories of scholarships have been added this year:
Poutama Scholarships for Māori applicants to grow the number of Māori health and safety professionals. In addition, we are wanting to build the evidence base in our sector.
Applied research You might have seen the attention that Clare George's PhD Thesis on Fatigue in the Transport has recently received. So, we will have a new category for Masters' and PhD students wishing to undertake applied research in topics relevant to our sector.
There has been strong support for the scholarship programme from within the profession, from our business sponsors and from the government. Workplace Relations and Safety Minister, Hon Iain Lee-Galloway launched the first round of scholarships last year and when we met with him in mid-June to update him on HASANZ's work, he agreed to support them again this year by sending out a press release announcing that the 2019 scholarships are open for applications. In addition, on 27 June we held a Field Day for the current scholarship recipients. The Minister hosted them at Parliament for part of the day.
Outcome of survey into Musculoskeletal injuries

In March, HASANZ commissioned research for ACC on how businesses manage Musculoskeletal injuries (sometimes called Bodystressing). The survey was sent to businesses and people across the health and safety disciplines. The key findings were that:
There is a lack of common terminology in businesses on musculoskeletal injuries. Often it is called OOS, RSI, strains and sprains, or discomfort, pain and injury (DPI).
Low priority maybe placed on these types of injuries businesses typically focus on managing risks that can result in acute injury.
There is a lack of clarity about the cost of these injuries and the value of prevention activity.
Larger businesses are more likely to see the potential productivity benefits of musculoskeletal injuries being effectively managed.
Broad awareness of solutions is low and is often piecemeal, and interventions are treatment-focused, given that ACC pays for treatment and rehabilitation.
There is a need to improve education on the causes, impact and the range of interventions available.
The survey found that the interventions most commonly in place were assessing and changing equipment or work practices, providing equipment like lifting aids, and induction training and education. The research found that interventions often had a limited long-term impact, addressed symptoms rather than root causes and often focused solely on the person. The survey findings will feed into the government's Harm Reduction Action Plan which aims to ensure that resources are well targeted.
Thank you to everyone who supported HASANZ in gaining these survey insights.
Scholarships
Applications for 2019 HASANZ Scholarships open on 3 July and close on 2 September.
Conference
The HASANZ CONFERENCE 2020 will be held from 09 to 11 September in Wellington at Te Papa.
HASANZ AGM
The HASANZ AGM will be held on Friday 26 July. We're using the occasion to launch the initial findings of our Health and Safety Workforce Stocktake and Pipeline report.
Health and Wellbeing Train the Trainer Workshop 23 July 2019
The Mental Health Foundation in conjunction with the Health and Safety Association of New Zealand is pleased to bring you two introductory workshops held on the same day to assist you to support members of your team who have responsibilities for the health and wellbeing of their employees.
Find more information here
NZOHNA
The NZ Occupational Health Nurses' Associations is having a multi-disciplinary conference on 19-20 September. See more.
OHPG
On 9-10 August the Occupational Health Physiotherapy Group (OHPG) is holding their bi-annual conference. The theme this year is around Mental Health and Wellbeing. See more
HFESNZ
The Human Factors and Ergonomics Society of New Zealand is pleased to announce there 21st Conference which will be held at the Ellen Melville Centre, Auckland Central on 19 and 20 September 2019. See more.
Call for Abstracts find more information here.
NZISM
New Zealand Institue of Safety Management would like to extend a special offer to our HASANZ partners and provide tickets to Todd Conklin at NZISM member rates. Simply go to the event promotion here and select a location.
You will then be taken to the ticket purchase page where we have set up a special ticket for HASANZ members. Please advise your members to enter the password: hasanz-tc
to be able to access tickets at this special rate.

We hope you enjoy the event, he is a fabulous speaker and we are all looking forward to seeing him shortly.
Nga mihi nui



Philip Aldridge