WORKFORCE DEVELOPMENT PROJECT
The Workforce Development Project (WDP) is funded by Worksafe. The Project purpose is to build the number of fully qualified and competent Occupational Health Nurses, explore options and develop recommendations for sustainable Occupational Health Nursing education and training pathways, and improve awareness and understanding of the roles and capabilities of Occupational Health Nurses.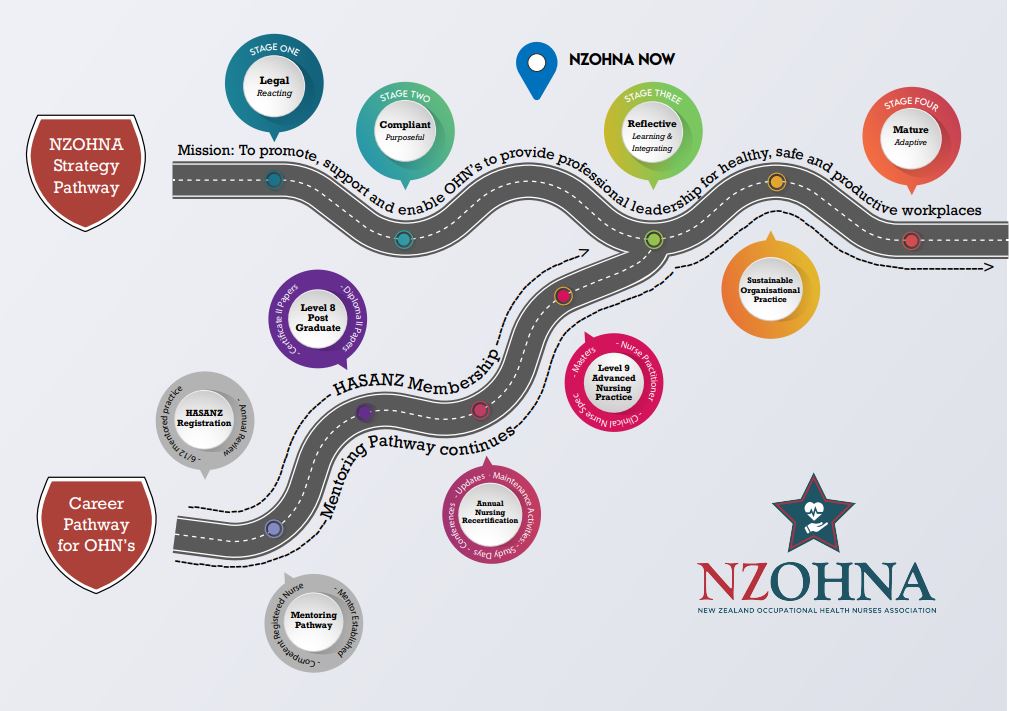 NZOHNA/WDP ROADMAP: EXPLANATORY NOTES – September 2021
NZOHNA is on a journey. This Roadmap (below) has been designed to show members that the two functions, of the Executive and the Workforce Development Project align and are essentially part of one another. The NZOHNA Executive and Workforce Development Project, need and do work closely together.

The top road shows a shield 'NZOHNA Strategy Pathway', this indicates that Association activities are largely directed by this Strategy ( Linked Here NZOHNA-strategy-doc.pdf).The road also shows NZOHNA progressing through stages of organisational maturity currently in a reflective situation and wanting to progress. However, NZOHNA has been somewhat hampered by the voluntary nature of the Executive. That aside the association executive works tirelessly and looks to a more optimistic future with the support of HASANZ/WorkSafe NZ with the funding of the WDP so we can develop a career pathway for OHNs.

This bottom pathway shows the establishment of the mentoring programme that is to support members through their career pathway with recertification, HASANZ Registration and we are hopeful for the development of specific occupational health nursing qualifications as desired by members. We also need to ensure members have access to current occupational health knowledge and skills that may fall outside of tertiary qualifications and provide members with structure and guidance in the development of their area(s) of practice. We hope this gives you, our key stakeholders, a positive perspective of your profession and welcome any feedback you would like to share.